All igloos have built-in cold trap, and are equipped with cold-reflecting thermal mats, matresses, skins and warm expedition sleeping bags. We have also provided candles, which ensure you a cozy atmosphere and extra warmth in the igloo.
If it still gets too cold for you, you can always stay inside the cabin, where we have warm, double bedrooms.
Our lovely cabin is the heart of the lodge. 
It is here we greet you upon arrival, here we enjoy the shared meals together, here you can sit with a blanket and enjoy the view with a cup of tea, here we have a wealth of exciting books about Greenland and cozy board games, here we have happy hour , and not least it is here our fantastic staff are at your service.
Inside the cabin there are toilets and bedrooms – if it gets too cold to sleep in the igloo.
It is also at the cabin, you have the opportunity to hear more about the various experiences we offer from Igloo Lodge with dog sleds, snowmobiles and snowshoes.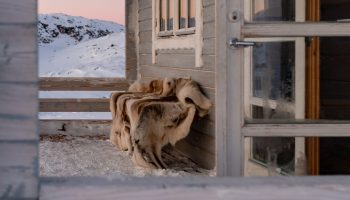 All stays at Igloo Lodge include