How to get to
Igloo Lodge
Igloo Lodge is located 15 kilometers into the backcountry of Ilulissat. It may not sound far away, but with pristine and wild terrain with no roads, the trip there itself becomes an adventure.
The trip to the Igloo Lodge takes place in a heated cabin on a snow cat. As our guest, you can sit indoors in peace and quiet, and at the same time enjoy the snowy winter landscape passing by.
Only 5 minutes after departure, we drive into a UNESCO protected area. From here on the ride goes through valleys with steep mountains, across crystal clear frozen lakes and past locale fishermen with their sledge dogs on their way to ensure todays catch.
Departure from Ilulissat at 08:30.
Pick-up at Hotel Arctic or at World of Greenland's office.
Departure from Igloo Lodge 10:15 am
The trip is around 1 hour and 30 min.
Spend the night in a traditional Igloo
Igloo lodge is World of Greenland's first winter lodge and is now part of a series of unique lodges in Greenland. Here you get an experience that you will never forget. Imagine sleeping in the middle of the sparkling Greenland winter fell, where the igloos are built from snow, as inuit has practiced through thousands of years. The word Igloo comes from the Greenlandic word "Illu" that means house.
Igloo Lodge is not a fancy Ice-Hotel – it is the real deal. It is for you who wants to experience the total silence, the magnificent surroundings, and the dancing aurora borealis in a nice cozy atmosphere. For you who dares to go off the beaten track, for you who wants a little more.
If you have not experienced Greenland during the winter months, a visit at Igloo Lodge Eqi is something you must not miss. The lodge is located at Nalluarsuk, 15 kilometers into the backcountry of Ilulissat – at the edge of the UNESCO area Ilulissat Icefiord. 
From the big cabin, you can keep up with the traffic, comprised of dog sledges and snow mobiles, passing by on the large frozen lake. Here is plenty opportunity to pull the plug, forget the everyday life and just enjoy the present.
Our lodge staff will be your hosts throughout the stay. During the day, we will take you on a snowshoe hike into the UNESCO area to a view point from where we can see the Icefiord, the ice sheet, and the impressive Sermeq Kujalleq glacier, that produce some of the mightiest icebergs.
We will pamper you and throughout the stay make sure you have hot coffee and tea, delicious snacks, and a nice atmosphere. In Igloo Lodge cosiness is at the center.
Is the lodge fully booked on your desired dates? Send us an email and we will put you on our waiting list.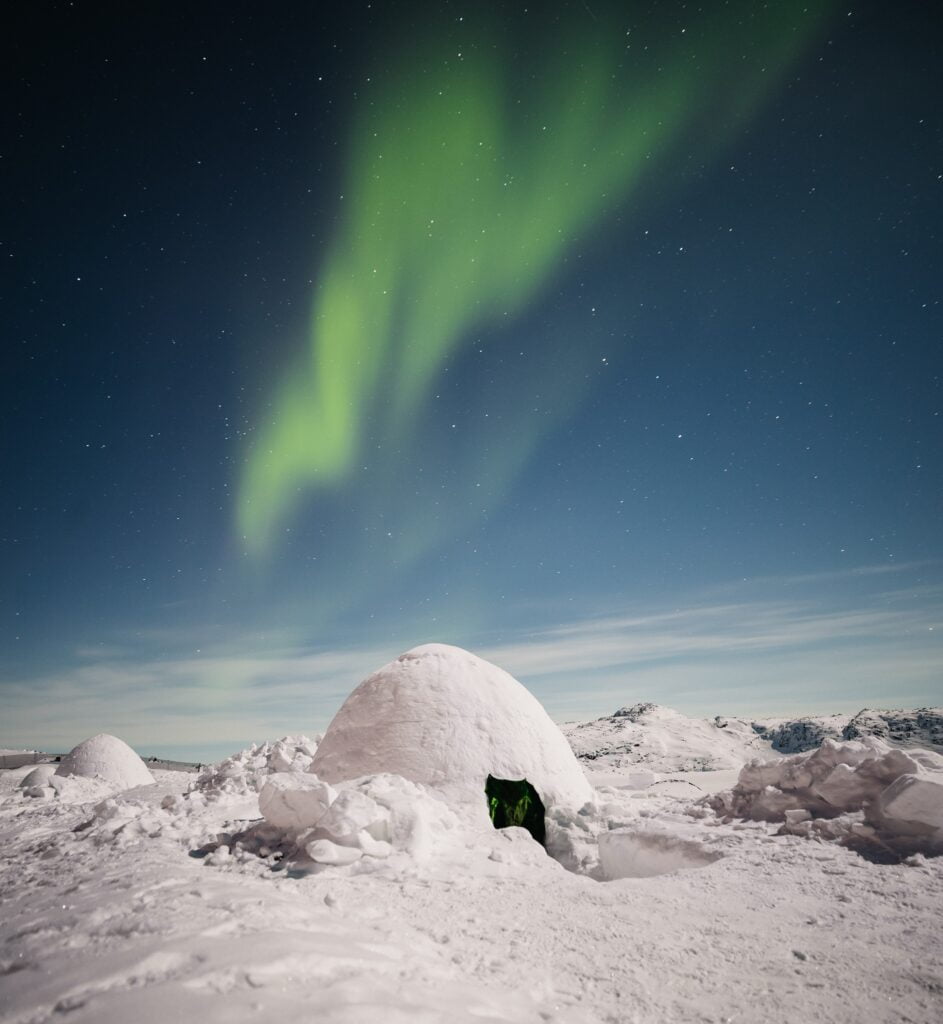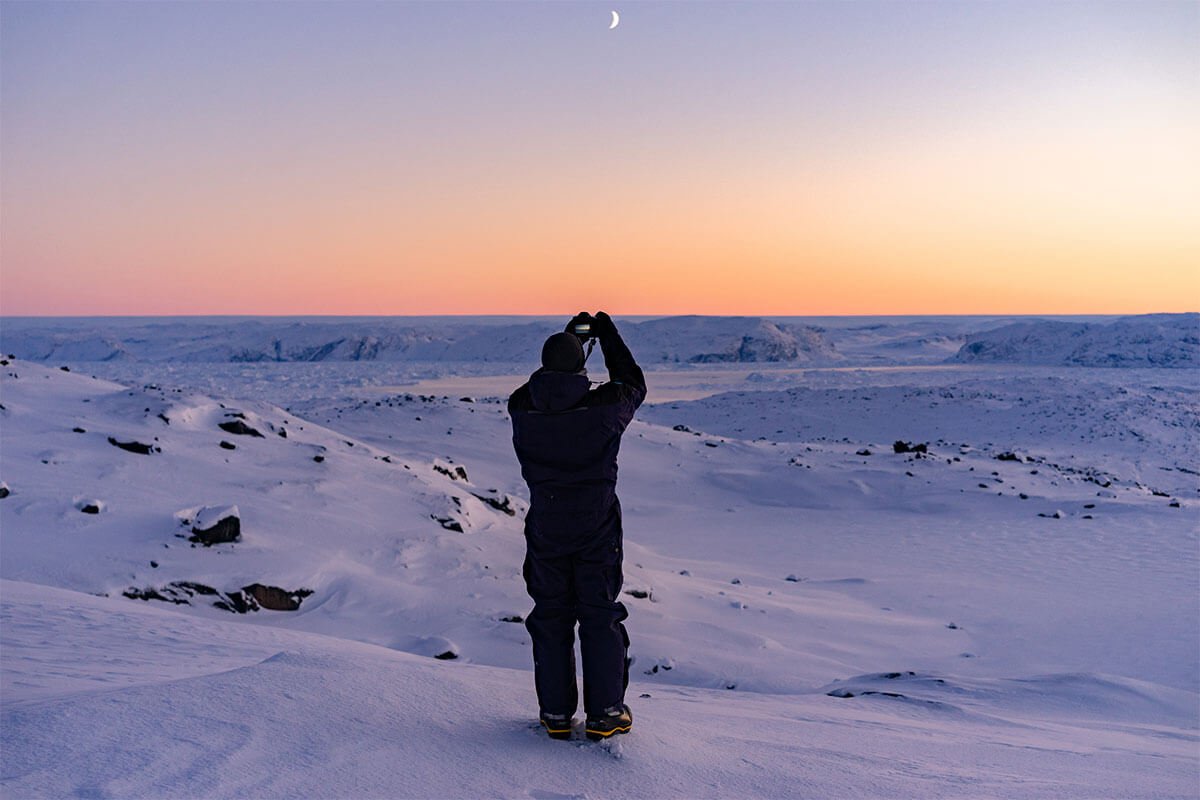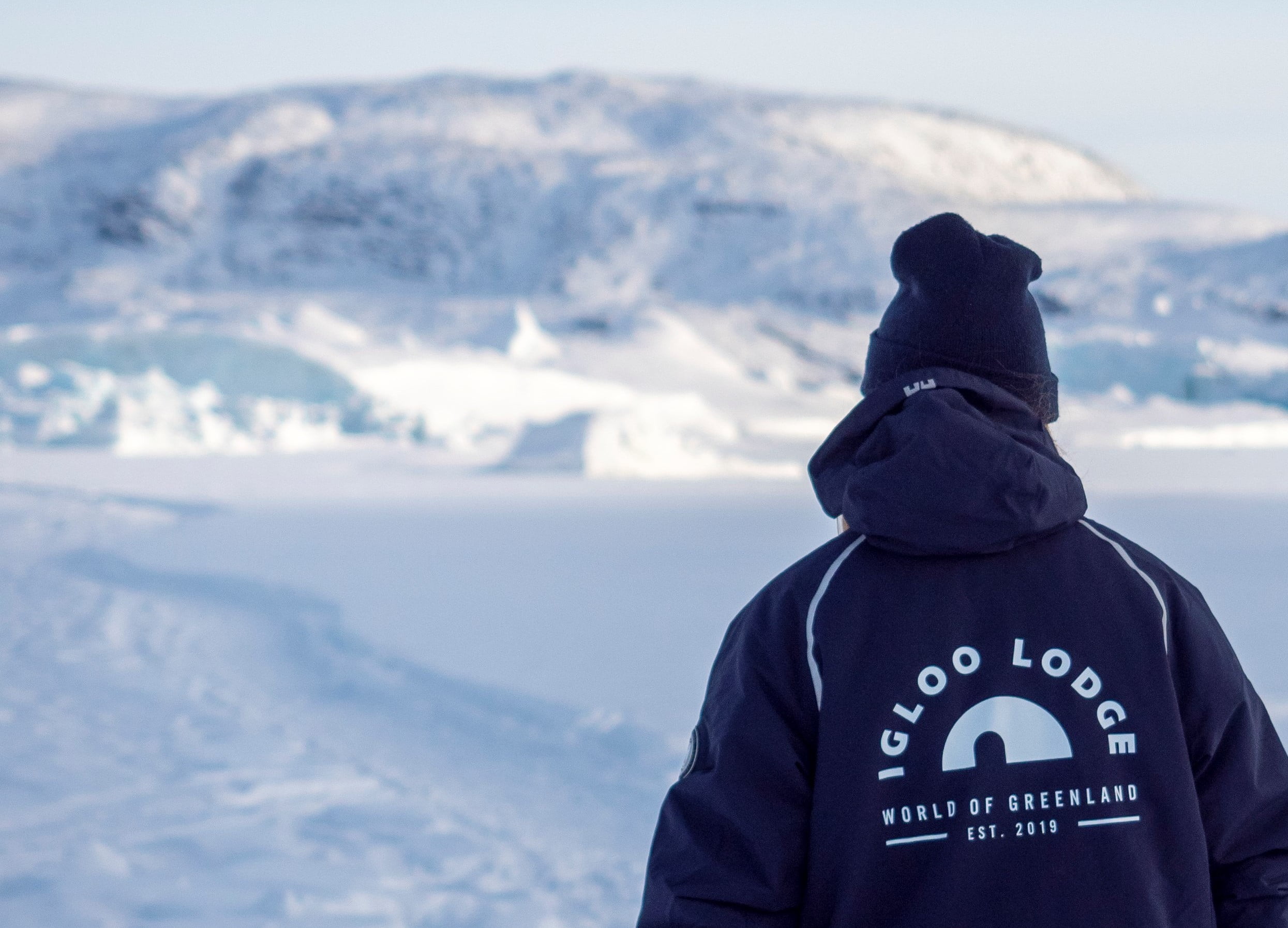 From Igloo Lodge there are plenty of opportunities for exciting activities. For example, a UNESCO sitre snowshoe hike to the most beautiful viewpoint over the Ilulissat Icefjord.
Good reasons to stay at Igloo Lodge
All stays at Igloo Lodge include