SNOWMOBILE TOUR IN ILULISSAT BACKCOUNTRY
If you come to Ilulissat in the months of February, March or April, you must not miss this terrific experience.
The tour starts in Ilulissat, where, after a technical review of the machines and driving technique, we set off towards "Nalluarsuk" 15 km in the backcountry of Ilulissat.
All the way we drive on the "snowmobile track", which goes over snowy mountains, through steep canyons and over frozen and glossy lakes. A very varied terrain, and yet the eye sees nothing but snow, ice and rocks.
You can take part in the trip, even if you have never tried driving a snowmobile before. We drive carefully and responsibly, and are constantly aware of your well-being. If there is a particularly difficult stretch, our guide can help with that passage. 
Our guests share a snowmobile in pairs, and therefore it is recommended that you request a "single snowmobile" if you are traveling alone or in an odd number. 
The drivers of the snowmobiles must be able to present a valid driver's license. 
All particpants must be at least 15 years old.
We will provide you with a warm coverall and expedition boots. But you must bring your ownb gloves and beanie.
BOOK SNESCOOTER I ILULISSAT HER
Prefer a single snowmobile?
If you want to have a snowmobile on your own, you can request this via this form, and we will help you book it.
We recommend purchasing a single snowmobile if you are traveling alone or if you are an odd number of travelers.
Please write the number of guests wishing a single snowmobile and their full name, date and time of the trip, where you will be staying while in Ilulissat, and your arrival and departure day to/from Ilulissat.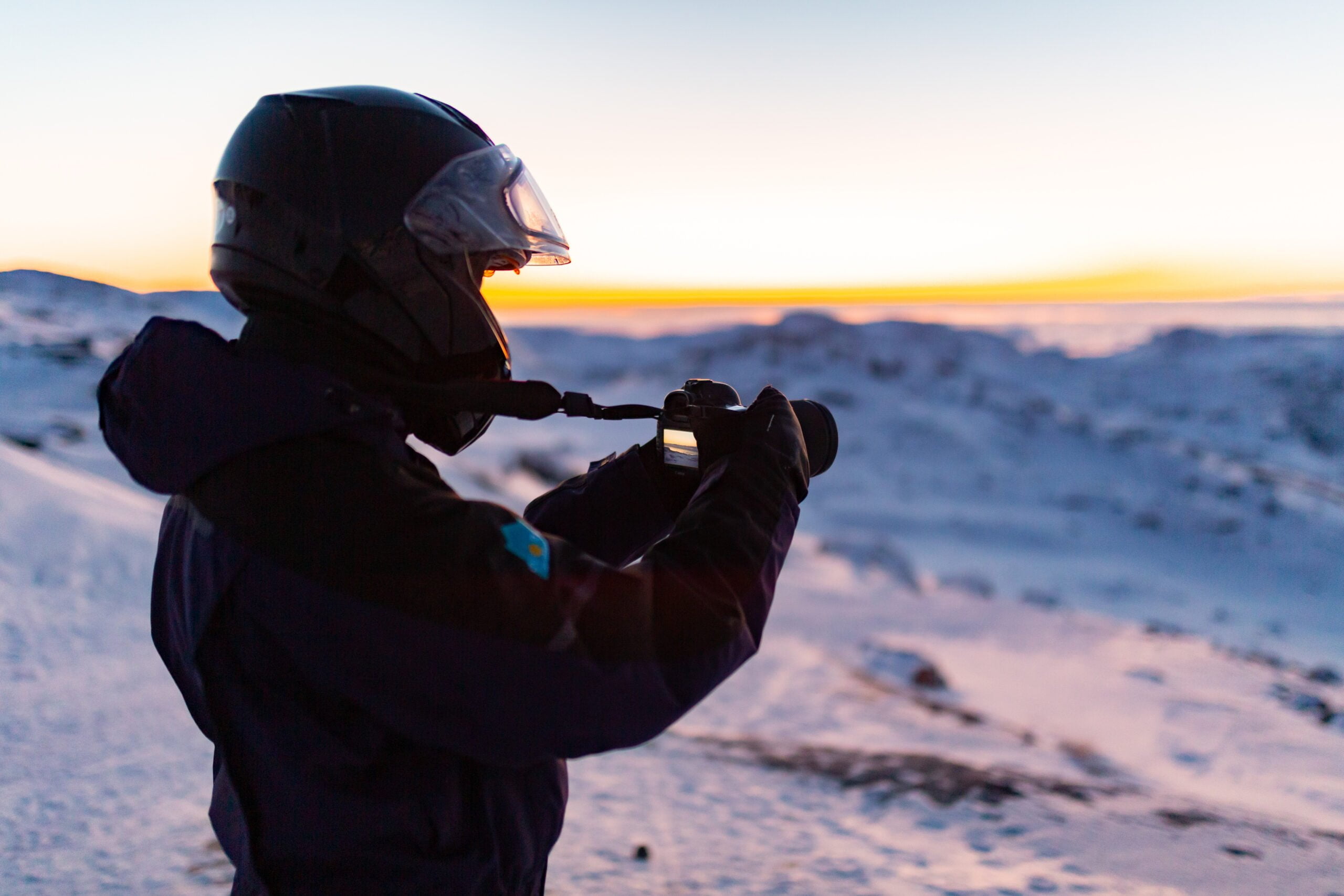 Along the way on the snowmobile tour, we pass fantastic viewpoints. Here it is worth biting the pain when taking off your gloves to take pictures.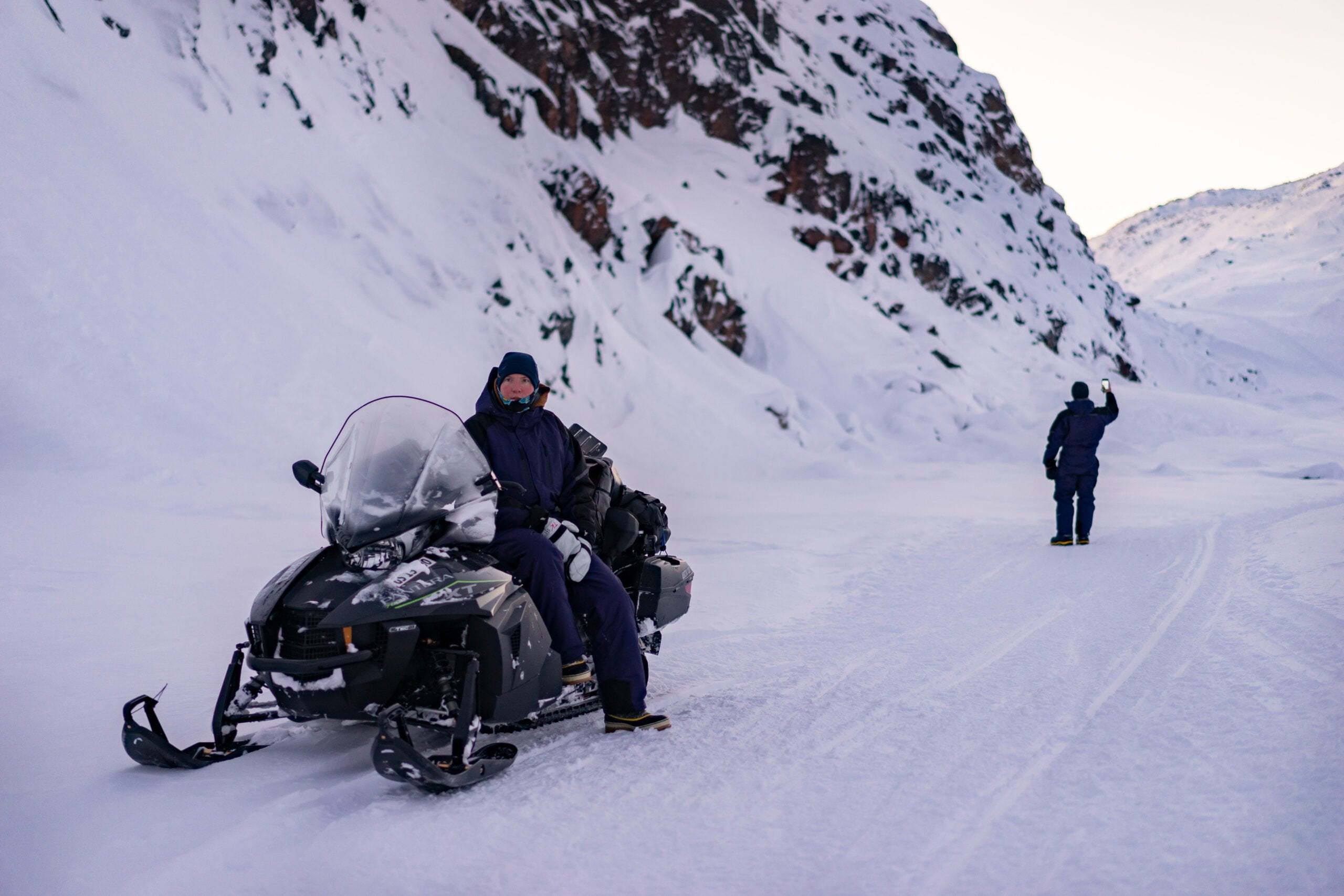 SNOWMOBILE IN MAGICAL GREENLAND
The snowmobile is becoming more and more popular, and is gaining ground in Greenland. It's a fun and popular activity for visitors, but local fishermen increasingly also use the snowmobile to retrieve fishing lines and for transport. 
Here in Greenland, there are no roads between towns and settlements. In winter, when the mountains are covered with a blanket of snow and when the lakes, fjords and bays are frozen, you can therefore drive a snowmobile or dogsled between some of the towns along the coast. 
Snowmobile from Igloo Lodge
A combined snowmobile and snowshoe tour from Igloo Lodge that takes you all the way out into the magnificent backcountry.
Why not go all the way and purchase Ilulissat's coolest snowmobile tour Walking amongst Giants? Here you will be joining the sight of the ice cap, glaciers, and try to go snowshoeing on the sea ice between icebergs. The tour is only offered to guests who stay overnight in "Igloo Lodge", but in our opinion it is also one of the most exciting experiences you can have during winter time in Ilulissat.
Come visit us in our shop! 
Åbningstider:
Mon-Fri 8.00-16.00
You can call us all weekdays between 9 am and 4 pm on + 299 94 43 00. Please, remember the time zone difference.
You can always send us an e-mail. We strive to reply within 24 hours. We look forward to hearing from you.
Ilimanaq Lodge can obviously be found on the social medias. Let yourself be carried away and follow us.