Welcome to World of Greenland's tour universe. On this page you will find the best excursions in Ilulissat, operated by ourselves or other hand-picked local operators. We take responsibility for your trip from start to finish, and look forward to welcoming you in Ilulissat.
Hightlights - we recommend
The dog sled is a deeply rooted symbol of Greenland, and has an incredible history that stretches over 2000 years.
The image of some dogs harnessed to a simple wooden sled has become synonymous with Greenland. The whistle of the sleds against the compacted snow and the creaking ropes as the sled twists with the terrain breaks the total silence. The experience cannot be explained - it must be tried.
When visiting Ilulissat you should not miss out on a boat tour among the famous icebergs.
During one year, more than 48 km3 of ice flows into the fiord. The result is gigantic icebergs, which can be more than 100 meters on each side and with a height on more than 100 meters above the water surface.
Join us on a true adventure all the way to the Greenland Ice Sheet.
We land at the edge of the Ice Sheet with breathtaking views of the glacial landscape. Here we hold a 30 minute ground stop, where we have time to learn more about the glacier and the ice sheet. After having enjoyed a glass of champagne, the trip goes back towards Ilulissat.
Aurora Borealis, also known as the Northern Lights, is undoubtedly the most spectacular phenomenon in the night sky.
When dark evenings occur with clear skies, there is a magical event that often unfolds over Ilulissat – the breathtaking northern lights. On this page you can read more about the different options we offer for watching northern light.
Sustainability and caretaking is part of our DNA at World of Greenland.
We are a Greenlandic company with a Greenlandic CVR. Among other things, this means that all our corporate tax and personal tax is paid locally in Avannaata Kommunia. It also means that everything we do is rooted in the local environment and commitment.
In our lodges, we have, among other things, set up our own solar panel systems, which supply us with green electricity; we have marked hiking trails in the areas, to spare the fragile and delicate, arctic nature; and we have a goal of being 100% free of disposable plastic. In addition, we employ local labor to the best possible extent, just as we offer internships to guide students or service economists from Campus Kujalleq every year.
We believe that locally rooted projects and democratic participation in society will create a breeding ground for sustainable growth in the company, and in local as well as national development. We happily contribute to the community with a helping hand, sponsorship and social responsibility. We are a member of the Greenland Chamber of Commerce, and we always actively participate in tourism related meetings and municipal strategy planning. We get involved in the local culture, both as a business and in our free time, and we are always available with ideas and thoughts.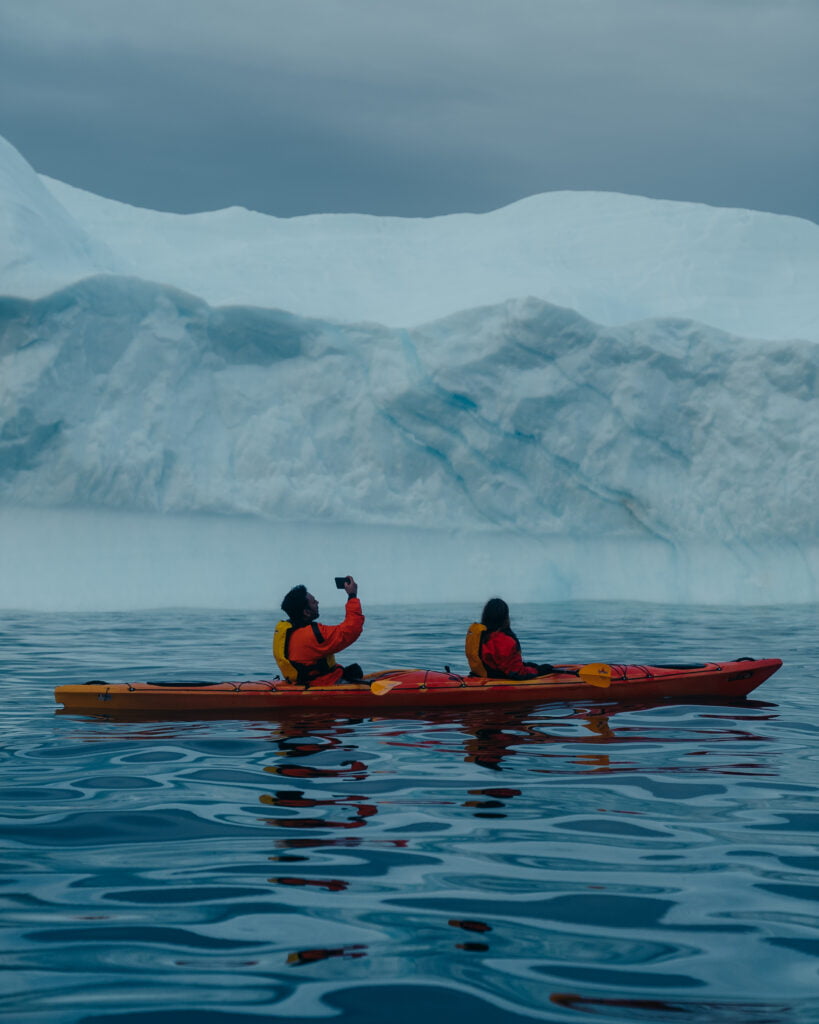 Ilulissat was founded in 1741 and was originally named Jakobshavn. Ilulissat is part of Avannaata Kommunia, meaning the northern municipality. There is about 10.650 people live in this huge area. Ilulissat alone has approximately 4500 human inhabitants and 1500 sleddogs.
Ilulissat is situated about 180 miles north of the Polar Circle. You can therefore experience the midnight sun from May 20th to July 20th. The complete winter darkness begins at the end of November until the sun returns on January 13th. During this period we have some of the finest northen light in the world.
Experience the midnight sun, the Inland ice, gigantic icebergs and calving glaciers. Experience whales, seals, sledge dogs, permafrost and the northern light. A world so far away from your everyday life, this will be a true adventure.
Greenland is a big country with lots of beautiful and interesting places to visit. However, there is no place, where the experience will become as complete as here in Ilulissat – the town by the ice fiord.
We offer you excursions by helicopter, boats, dog sledges and by foot in an area so beautiful and unique, that UNESCO has accepted it on it's World Heritage List in 2004.
The arctic summer is short and hectic, and that is demanding for the arctic fauna, which is living at the extreme edge.

It is also interesting to get an insight in the Greenlandic culture and history, which is all-pervading in the area.
The backcountry is incredibly beautiful, and during the winter when the ground is covered with a blanket of glittering snow, it is possible to go dogsledding, snowmobiling, skiing and snowshoe hiking. 
Welcome to Ilulissat - The Land of adventures.