Enjoy a quiet afternoon on the terrace, while taking in the sight of a calving glacier
Glacier Lodge Eqi is the oldest lodge in World of Greenland's collection of unique lodges.
Here you get an exclusive opportunity to see, hear and feel the effect of a calving glacier up close. An experience that can make most people forget about everyday life, disconnect and be present in the moment.
Our Lodge is located in the middle of the enormous, Greenlandic wilderness, far from civilization and everyday life. Nonetheless, we made sure, that you do not need to compromise on everyday amenities. We have electricity, so that you can charge your camera; running hot water, so that you can enjoy a shower after a long day's adventure; beautifully furnished cabins, where we have not settled on the quality; and of course, delicious food – Because we love to pamper you.
Our cabins are uniquely located overlooking the Eqi Glacier. The glacier in the northern hemisphere that calves the most often. Scientist believes that the glacier calves no less than once every 10 minutes. You are therefore almost guaranteed to witness the deafening event during a stay here. And you can expect a holiday out of the ordinary when you book a stay at Glacier Lodge Eqi.
At World of Greenland, quality, safety, sustainability and presence are also paramount. Therefore, you can safely book your next experience in Eqi, Greenland with us. Read more about sustainability in Glacier Lodge Eqi here.
It is only possible to book a stay at Glacier Lodge Eqi from mid-June to mid-September, and as we have limited space, it is a good idea to book your stay well in advance.
Is the lodge fully booked on your desired dates? Send us an email and we will put you on our waiting list. If you are flexible you can also watch out for late offers on this page..
We look forward to welcome you in Glacier Lodge Eqi.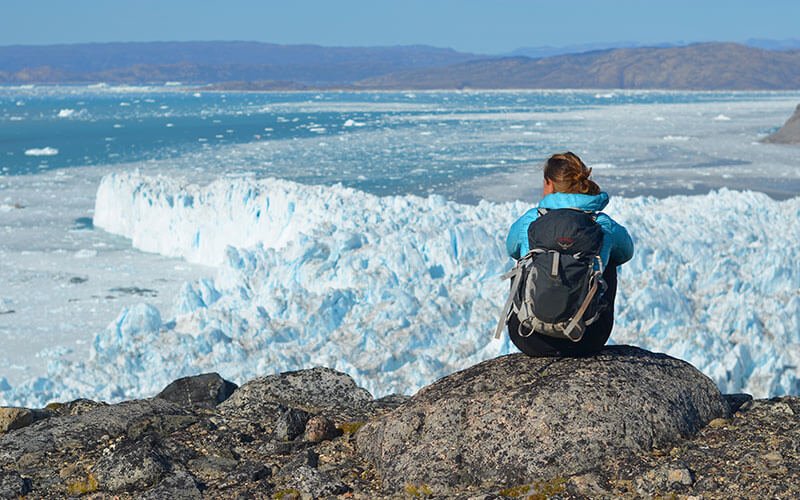 The area that surrounds Glacier Lodge Eqi offers world class hikes. In all our packages we have included a hike to the top of the glacier moraine. Few places in the world allows you to get that close to a calving glacier, but Glacier Lodge Eqi is one of them.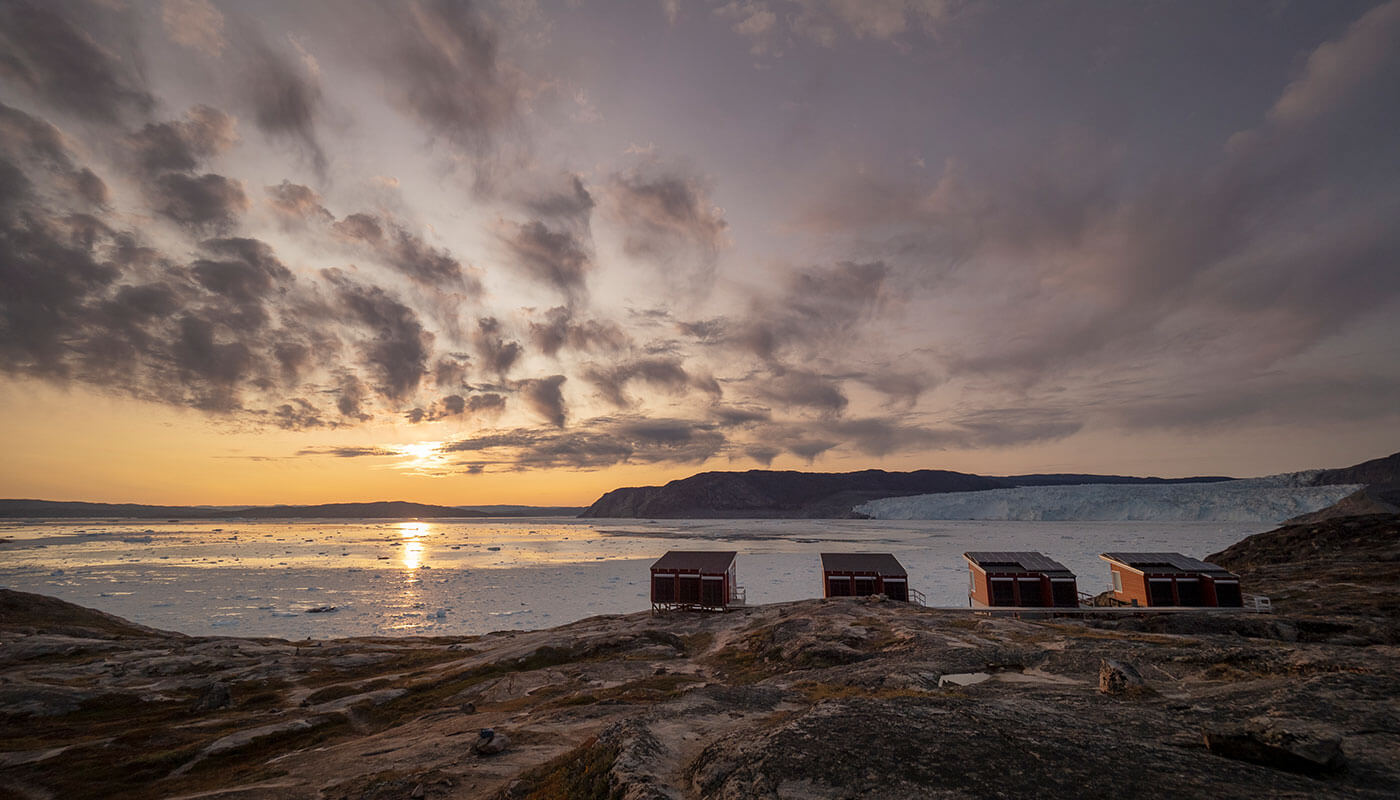 Follow in the footsteps of a polar explorer
The area that surrounds Glacier Lodge Eqi offers many fascinating experiences.
The French polar explorer and adventurer Paul-Émile Victor had his base right where our lodge is today, and his old expedition hut known as the French hut is still there. Victor went to Eqi in 1948-1953 to make geologically exploration of the Ice Sheet.
On our guided hike to the ice sheet, we follow in the footsteps of Paul-Émile Victor. In some areas you can still see traces from his tracked vehicles, that carried equipment on the ice sheet. On the hike we pass by remains of his transportation cables and tracked vehicles before we walk on the edge of the enormous ice sheet.
There are several hikes in the area, they consist of different length and level of difficulties. If you choose to buy a guided hike, our staff will ensure warm coffee a nice atmosphere and of course tell you lots about the history of the area, and the flora and fauna we pass by.
Are you more into relaxation and wellness? Try our newest activity in Glacier Lodge Eqi – Yoga with glacier view. A spacious dome with a panorama window facing the glacier makes the foundation of Eqi Yoga Studio, where all are welcome, regardless experience.
Are you like most, you will also enjoy a quiet afternoon on the terrase, with the great company of your family and friends? We dare to promise, that you need to look far to find more beautiful surroundings to enjoy the presence in.
In other words, there is plenty to experience in Eqi, and we recommend you stay at least 2 nights, if you want to see all that the place has to offer.
At Glacier Lodge Eqi, we are here for you. We love to pamper and surprise you, and our staff are always ready with assistance, good advice and good company. We will ensure the good atmosphere and hope you will visit us in Eqi with an open mind – ready for a real wilderness experience. Bijoy C
Unexpected pleasant surprise
"My wife and I spent several days at these glass cabins at Eqi watching the massive glacier all day and night. It is easy to access by boats from the city of Illulissat in Greenland. Local airline travel folks arranged everything for us. We have traveled to more than a hundred countries around the globe and watched many glaciers from tour boats. Nothing can match watching the glacier from your bed. This experience is unmatched. This resort with separate glass cabins is expensive but fantastic. We watched the Glacier from a short distance from the comfort of our lavish and comfortable beds passed midnight until we fell asleep, We watched whenever we woke up and all day long. We watched the tsunami caused by calving and watched them drown the suicide beach. Tour boats below looked like bouncing toys." 147anng
Lovely rustic lodge
"We stayed 2 nights as part of a self guided tour. We stayed in a standard cabin, which was very spacious, nicely decorated and had great views of the glacier. The standard cabins use shared bathrooms and showers, but that was not a problem. The food is included in the stay, the breakfast and dinners both excellent using foods primarily from Greenland. There are several good hikes from the lodge. We were very pleased with our stay here." Chainwax
Highlight of our trip!
"We stayed in a Comfort Hut for one night. We are a family of 4 (2 adults, 2 children, ages 10 and 11). The hut was perfect for us - double bed for the adults and single beds for the children. Small table to play games, full bathroom, and the best part - front deck to watch the glacier. ... The boat trip up to the glacier was wonderful! I never got bored of the icebergs. ... All of the meals were fantastic - musk ox steaks, halibut, salads, bread, etc. The hut was comfortable for sleeping - the blackout curtains were pretty good. Do not miss the hike! It was a beautiful hike, and the guide was wonderful with the kids. Tons of flowers, birds, etc. All of the guides at the camp are wonderful. ... This is a very pricey trip, but it was honestly the highlight of our 2.5 week adventure.
Any stay at Glacier Lodge Eqi includes