EXPERIENCE THE WHALES IN ILULISSAT
Join us on our whale watching tour in Ilulissat. Experiencing whales up close is a great and memorable experience. The magnificent, elegant and peaceful animals pass by Ilulissat from mid-June to the end of September, and here you have the opportunity to come on a trip with us and experience the giants of the sea. 
We mostly see humpback whales, and occasionally also fin whales. Humpback whales are called the acrobats of the sea, as they are very active. Sometimes they lie quietly in the surface and sleep, but often they make an elegant dive, showing their huge tail. If we're lucky, we can see them eating krill and jumping out of the water, or splashing with their mitts.
BOOK YOUR WHALE WATCHING HERE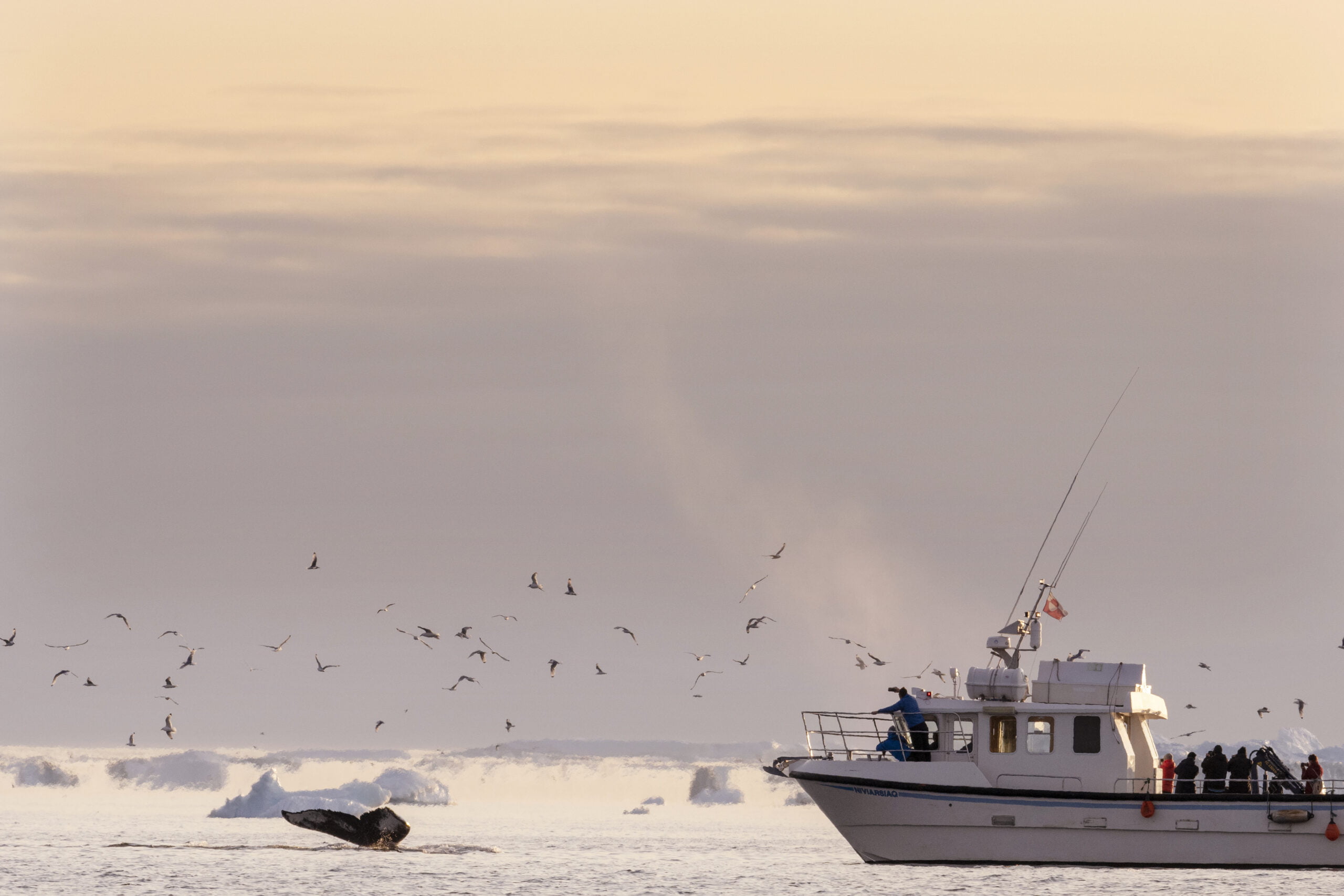 A good trick when you're out on a whale watching trip is to keep an extra eye out for places where the birds congregate. It could be a whale, pushing fish and krill to the surface, to the delight of sea birds.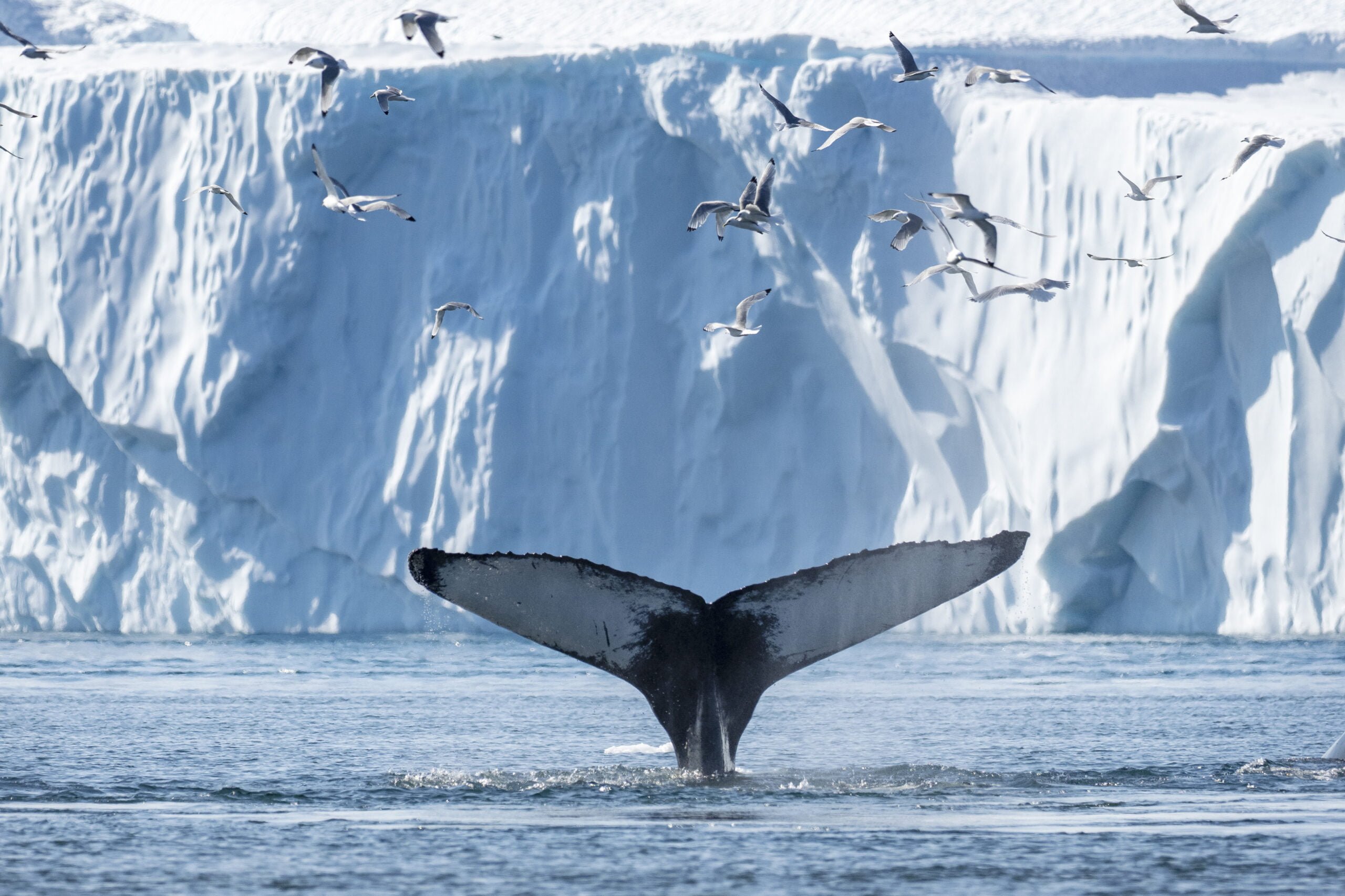 WHALE TOUR AMONGST ICEBERGS IN THE DISKO BAY
It varies from year to year and from month to month where the whales move. Sometimes they are right out in front of the town, and sometimes we have to sail a little further to find them. Often, however, we will be able to find whales close to the icebergs at Ilulissat Icefjord. The special conditions of melting icebergs have the consequence that a lot of feed is produced, and therefore many fish, seals and whales live here.
On this whale watching tour we use a small, fast boat on our whale safaries so that we have as much time as possible to find and admire the whales.
We see whales on about 95% of our tours. So the chance of seeing the giants is good, but there is no guarantee of seeing whales on the safari.
At World of Greenland, we put great honor in pulling other local tour operators onto the scene. 
Being a part of Air Greenland Group, our duty is to lift Greenland, and this is partially done through strong cooperations with smaller, local tour companies.
Our whale safari is operated by @Ilulissat Water Tours – a local company owned by Ilulissat-born Kaj Henningsen.
You can look forward to getting in touch with local captains with a first-hand knowledge of the area. Furthermore, small boats are used to secure an authentic and intime atmosphere on the tour.
What we love about Ilulissat Water Tours is their kind and service-oriented approach to our common guests as well as their strong local identity and high skilled captains who know the area like the back of their hands.
We are very proud of having Ilulissat Water Tours on our partner team.
Come visit us in our shop! 
Åbningstider:
Mon-Fri 8.00-16.00
You can call us all weekdays between 9 am and 4 pm on + 299 94 43 00. Please, remember the time zone difference.
You can always send us an e-mail. We strive to reply within 24 hours. We look forward to hearing from you.
Ilimanaq Lodge can obviously be found on the social medias. Let yourself be carried away and follow us.